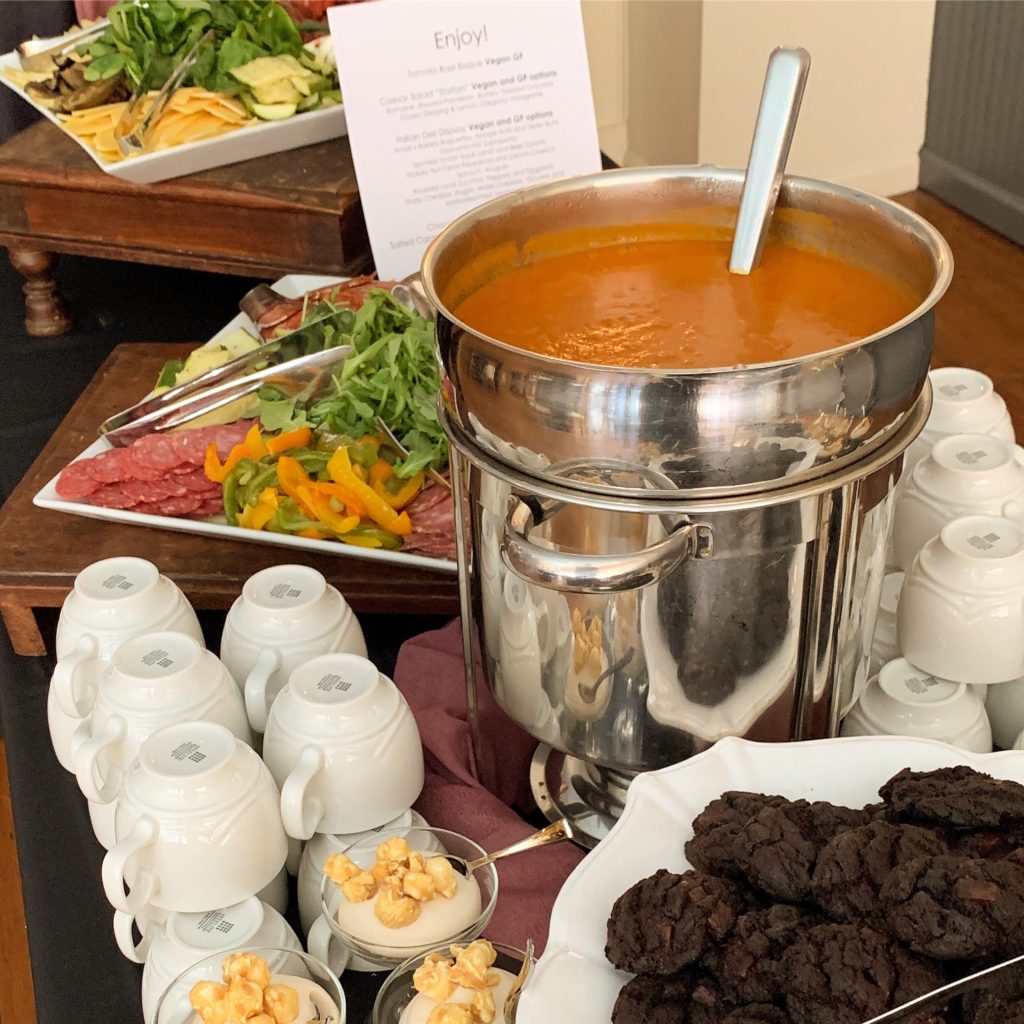 Celine & Company is a leader in the catering and event industry in Asheville for over 25 years. Our reputation precedes us because we offer our guests a one-of-a-kind vintage atmosphere, excellent customer care, and unique catering options for each event. We know how much work business leaders put into their corporate events, and what is required from us for a successful event. Our kitchen and wait staff are known for their professionalism, experience, and make it their priority to exceed our client's expectations. 

Professional, Elegant Meeting Space in Asheville

When you require an event space that offers luxury, convenience, and comfort for your corporate event—whether it be a learning seminar, holiday party, silent auction, or business luncheon—our downtown Asheville event venue is an ideal location. Celine & Company's "On Broadway" is an airy, large, open space with high ceilings and vintage-themed venue decor. We have a street-level entrance in the heart of Downtown Asheville with multiple hotel and parking options within a short walking distance.  Your guests will enjoy gathering in an iconic building—we're listed on the National Historic Registry!—that offers an antique yet elegant atmosphere and all the modern accommodations you expect in an urban event venue. Our corporate event space can easily accommodate up to 275 seated guests and can be rearranged by our staff to cater to your unique needs regarding presentations, seating arrangement, and meal options. 
How is That White-Walled Hotel Meeting Room?

Hotels are functional and convenient by design, but they often lack creative output. When the objectives of your business event are to learn, discuss, generate, and grow, your environment plays a role. Celine & Company takes equal pride in accommodating our local Asheville non-profit events and welcoming out-of-town businesses. Regardless of whether you conduct business locally or are coming to Asheville for a corporate retreat or off-site meeting, consider the benefit of allowing your guests to stretch their legs somewhere other than a hotel parking lot. Lunch break walkabouts in our colorful mountain town during an all-day business meeting offer the visual and mental stimulation to truly "break" from the agenda, and come back feeling refreshed.
Exceeding Expectations

Celine & Company's "On Broadway" is a vintage-themed venue located in the heart of Asheville's vibrant and historic Central Business District, just two blocks north of Pack Square and Vance Monument. Contact Celine & Company today to discuss your corporate meeting, retreat, auction, or conference needs. Exceeding your expectations is more than our business, it is our pleasure. Come see why we are at the forefront of a competitive industry for over 25 years.