Celine and Company Catering was founded by Celine and Michael Lurey in 1993 and has remained a leader in serving Asheville's finest catering cuisine. Starting as an expression of Celine's love of entertaining and an outlet for her locally-known and sought out cuisine, the business has grown tremendously over the years. In January of 2015, Celine and Michael chose to embrace the freedom of retirement and sold Celine's namesake business to long-time Chef, Kim Lloyd.
Owner and Operator: Kim Lloyd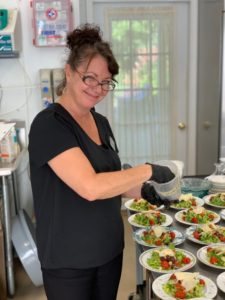 Owner and operator Kim Lloyd joined Celine and Company Catering as Executive Chef in 2006. She was formerly Executive Chef of Pawley's Plantation Golf Resort and Thoroughbreds Restaurant. She is a graduate of The Florida Culinary Institute and an American Culinary Federation Gold Medalist. Kim has led numerous award winning teams in regional culinary competitions as well as had the pleasure of assisting her South Florida mentors in an acclaimed Caribbean-influenced dinner at Manhattan's celebrated James Beard House.
Building on her over 25 years of culinary and business expertise, Kim has found her passion here in downtown Asheville. Helping people celebrate their once in a lifetime moments.
Executive Chef Austin and wife Alejandra- Latin cuisine chef extraordinaire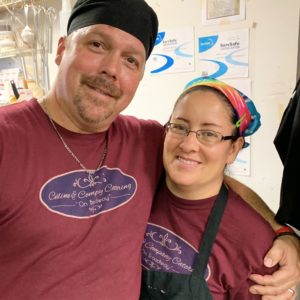 Executive Chef Austin Tisdale attended the Culinary Arts Program at Guilford Technical Community College.  He began his career as a chef at the classical French restaurant Rendezvous in Greensboro. From there he spent time in the kitchen of the 5 star 4 diamond Fearrington House and then as a Sous Chef and Event Chef at the Green Valley Grill/O'Henry Hotel.  Here in Asheville, Chef Austin has held chef positions at Vinnie's, Fiore's Italian Restaurant, The Grove Park Inn, The Asheville Sandwich Company, Lexington Avenue Brewery and Bouchon French Bistro. His wide-ranging skills and experience have helped us to grow as a company and his kindness and "cool under pressure" leadership style inspire our staff to approach each event with confidence and enthusiasm.
Pastry Chef: Rebecca Millsapps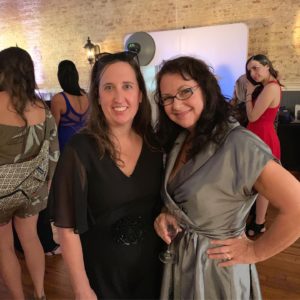 Inspired by all of the amazing meals she ate living and travelling abroad,  Pastry Chef Rebecca Millsapps completed culinary school with a Baking and Pastry Degree from Seattle Central and went to work with Macrina Bakery. She met her husband Allen in Seattle in 2000 and they made their move to Asheville together in 2002 and in 2005 were married and held their reception in our very own vintage urban space "On Broadway"! Having worked on and off with Celine and Company for thirteen years. So, it seemed a natural fit for Rebecca to join the team full time in 2015.
Our Staff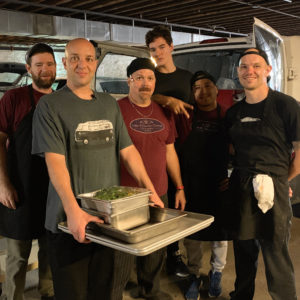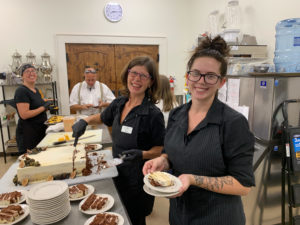 Our Event Hosts, bartenders, floor and kitchen staff come from all different backgrounds as professionals, students, and parents. When brought together for events with Celine and Company, they bring professionalism, a killer work ethic, a love of great cuisine and a commitment to exemplary service.