Celine and Company Catering was founded by Celine and Michael Lurey in 1993. They remained a leader in serving Asheville's finest catering cuisine since. Starting as an expression of Celine's love of entertaining and an outlet for her locally-known and sought out cuisine. The business has grown tremendously over the years. In January of 2015, Celine and Michael chose to embrace the freedom of retirement and sold Celine's namesake business to long-time Chef, Kim Lloyd.
Owner and Operator: Kim Lloyd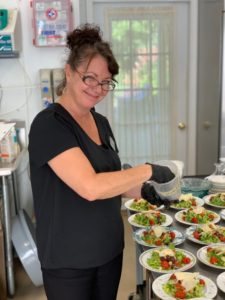 Owner and operator Kim Lloyd joined Celine and Company Catering as Executive Chef in 2006. She was formerly Executive Chef of Pawley's Plantation Golf Resort and Thoroughbreds Restaurant. She is a graduate of The Florida Culinary Institute and an American Culinary Federation Gold Medalist. Kim has led numerous award-winning teams in regional culinary competitions. Kim had the pleasure of assisting her mentors in an acclaimed Caribbean-influenced dinner at Manhattan's celebrated James Beard House. Building on her over 25 years of culinary and business expertise, Kim has found her passion here in downtown Asheville. Helping people celebrate their once in a lifetime moments.
Our Staff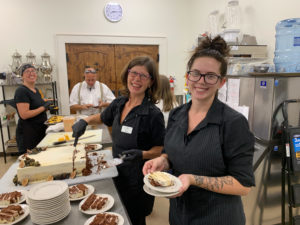 Our Event Hosts, bartenders, floor and kitchen staff come from all different backgrounds. As professionals, students, and parents. When brought together for events with Celine and Company, they bring professionalism, a killer work ethic, a love of great cuisine. Also a commitment to exemplary service.